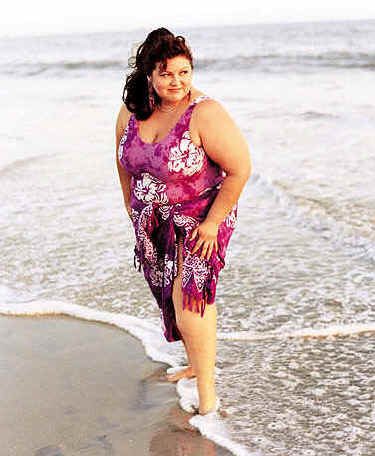 tís summertime. The sea and the air are beckoning! Get ready to swim, sun, and sparkle in batik bathing suits from Big on Batik! Made of comfortable, "stretch forever" rayon Lycra, our bathing suits come in two great styles and two sizes to fit women sizes 16Ė52. The Classic Tank (pictured) has a scoop neck and back, with a shelf support. The Modified Tank has a scoop neck and straps that cross in back.
An added attraction: Every bathing suit comes with a matching four-feet by eight-feet batik sarong! Tie it around your waist as a wrap skirt, wrap and tie it around your neck for a beach cover up, or use your imagination for a look thatís cool, comfortable, and alluring.
Our bathing suit sets are priced at $79 and come in six colors: hot pink, golden yellow, kicky green, royal purple, cool blue, and basic black.
PHOTO BY SATU