Swimsuits 2000!
Radiance Readers Takin' it to the Water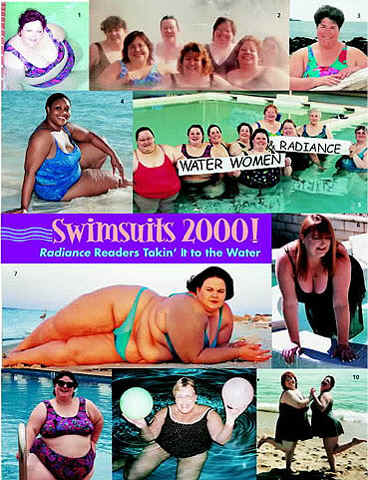 Who's Who
Cherisse Prater, FL
Rocky Mountain (CO) Chapter of Naafa.: L-R, Leslie Curtis, Jan Marie Belle, Sherry Goodwin, Janet Severe. Front Row, L-R, Dina Marroquin, Debi Nault, and Patti Kelly.
Alice Ansfield, CA. Photo by Judy Seibert.
Paula Smith, St. Thomas, VI. Photo by Rudolph Liverpool.
Water Women of Seattle, WA.: Back Row, L-R, Marty Hale-Evans, Lana Saunders, Steph Hartung, Martha Mestl, Joan Huber, Eris Dreyfus, Aganita Varkentine. Front Row (behind "Women" and "Rad"), L-R, Kristin MacFatridge, Lee Brown.
Dawn Cohen, NV. Photo by A.J. Cohen.
Brooke from AL. Photo by Emerald Coast Photography.
Lana Saunders, WA. Photo by Larry Kinney.
Mary L. Cahen, FL. Photo by Daria Hanson.
Jassy Kowalski and Eve Diana in Provincetown, MA.
---
Remember, this is only a taste of what's inside the printed version of the magazine!