Stories from Readers Like You
From Radiance Winter 2001.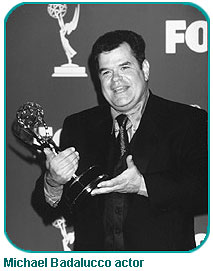 ince being married to Brenda, our New Year's celebrations have been on the quiet side. Some might call them boring. We're usually at home and asleep before midnight! But that doesn't make good press, so let me tell you about the only time I went to Times Square for New Year's Eve.
I was dating a girl named Lynne. We were sharing the evening with three other couples. This was in the early 1980s, when I was much younger and much wilder, and we were thrilled to be going to New York City!
After a lot of premidnight celebrating, we hit the subway to Times Square. We all planned to get off at Forty-Ninth Street and walk to Forty-Second. But I was leading the whole train crowd in song and, well, I missed the stop. My friends had all gotten off. I was stuck on the train.
I exited at the next stop, entered a sea of people, and fought my way up the stairs. I was way south of Forty-Second, and the police had cut off access to Times Square there. Using my Brooklyn ingenuity, I finagled my way to Forty-Third Street and found the perfect spot from which at least to see the ball drop, alone in the crowd. The counting began: Ten, nine, eight . . . I turned to my right . . . seven, six . . . I heard a familiar voice . . . five, four, three . . . it was Lynne and the group . . . two, one. . . Happy New Year!
—Michael Badalucco, actor, currently appearing in ABC's
The Practice
spent one memorable New Year's Eve with my college roommate Michelle and her mother. We all lived near Chicago, home to good polka music. One local station held a polka marathon, with bands playing live in the studio all night. We danced around the living room and then saw in the New Year with some bubbly. It wasn't Times Square in New York City, but for a trio of Polish-American women, it was a lot of fun.
—Mary Ann Zeszutko
1989. I was living in Russia, working at the U.S. Embassy in Moscow. Just in time for the holiday, freezing rain turned the whole city into a massive ice skating rink. Leery of breaking a limb, I canceled my plans to spend the turn of the decade with the revelers in Red Square, deciding instead to just hang out with the usual suspects at the embassy's tiny bar, Uncle Sam's.
My daily work attire was a grubby, mud-spattered sweatshirt and jeans. I'd brought only one nice (never before worn) dress with me to Russia: a black crepe number, sheer, stylish, and glittering with tiny beads. It definitely wasn't cold-weather garb, but it was gorgeous! I did up my hair, put on makeup for the first time in a year, looped strands of amber around my neck, and, overdressed for a bar full of Marines and construction workers from Fort Worth, slid across the compound to Uncle Sam's.
The reaction as I entered the bar: jaws dropped, a couple of guys applauded, and one man yelled, "Holy mackerel!" A Marine I'd always thought looked like Billy Dee Williams rushed over to me and kissed my hand. "You look amazing!" he said, and I just about melted! It was as if I'd been transformed into a fairy princess. One of the Texans started pulling tables away from the center of the small pub. He told me that he wanted some space, so he could ask me to dance. I spent the evening sipping champagne and dancing with every man in the room, from dashing young Marines to tough old Texans. I was the belle of the ball!
As midnight approached, a small group went out to see the fireworks we knew would ring the city from all directions. My teeth were chattering, and one of the Texans draped his jacket over my shoulders. As the seconds wound down the 1980s, and the sky started to blaze with colorful explosions, a sweet-faced Marine said to me, "Ma'am, I have a girlfriend back home, and I don't think she'd like it if I kissed a stranger, even for New Year's, but I sure would like to give a pretty lady a big hug." And so as midnight struck, I was enveloped in a huge hug by a handsome Marine, fireworks pounding overhead.
It was sweet, it was lovely. I still smile when I think about it. (And I still have that beaded crepe dress.)
—Melissa Jordan
1983: A second marriage for each of us. At the base of a Victorian's long, curving stairway, family and friends awaited our descent. A piano played our song, "Long Ago and Far Away." We entered the parlor, my eighteen-year-old daughter as my attendant. Candlelight, firelight, and twinkling Christmas trees bathed the room in a glow that warmed the mural of roundly sweet cherubs on the domed ceiling. I paused and breathed in the warm, gardenia-scented air, looked at the faces smiling at us, and relished everyone's love.
A nuptial feast and champagne. Later, a few relatives joined us to walk in the cold, dry night to hear our favorite songstress at a jazz club nearby, to celebrate midnight there with horns and confetti. Could there ever have been a more romantic and friendship-filled New Year's?
New Year's Eve 2000: Seventeen years and eleven-grandchildren-between-us later, we prefer New Year's Eves alone together or quietly shared with friends at home. We celebrate by buying way too many fresh Dungeness crabs. We cook them to eat with dripping buttery fingers, cold beer as a chaser. Tonight, no salad, no veggies, only bread and more butter. I just want to savor crab. Lots of candles and cloth napkins. Our tablecloth, today's newspaper. Later, we play a game or watch rented movies. Some years we're asleep at midnight and awake briefly to the banging pots, horns, and firecrackers in our neighborhood. We never make resolutions. We just renew our commitment to loving each other and ourselves.
—Linda Tanner
I started a New Year's tradition some Time ago. I join with a few friends at one of our homes midmorning on New Year's Day for a delicious French toast breakfast. After the meal, we make a fire in the fireplace, light some candles, and sit. We unpack notepads, writing instruments, and any other special tools we've brought to share (angel cards, runes, or spirit cards).
I pass out a writing guide, which asks for highlights of the previous year (family, work, home, travel, and personal growth); disappointments and struggles of the prior year; and goals, wishes, and hopes on entering the new year, including personal changes we want to make and support that we would like from friends.
We put on our favorite music and begin to write, reflecting and sharing along the way.
—Alice Ansfield
My best New Year's ever? Paris, 1987. The evening's activities flowed like magical waters. The train arrived just as I stepped onto the Metro platform. The second I walked through the car door, someone got up to leave, giving me a seat in a train overflowing with people. My French somehow kicked into high gear, and I understood what people were saying. The air was electric.
As we neared the Place de la Concorde station, one end of the Champs Elysées, voices became more excited and conversations more animated. When the train doors opened, we exited en masse, as if we were all friends going to the same party. The trees along the Champs Elysées were shimmering with golden-white Christmas lights, and in the fountain at the Place de la Concorde, colored lights played in the water.
And most magical of all was the sight of an empty café table in front of a huge window opening right onto the street. I ordered a bottle of Perrier for $6.50, sat down, and just soaked in the scene and the New Year's spirit. Fabulous, absolutely fabulous.
—Linda Minor
As I gritted my teeth and wrung the bed sheets (we didn't know about Lamaze back then), waiting for the mythical painkiller to appear (we didn't know about Lamaze back then), my husband and I watched on the black-and-white TV as people assembled an entire coast away in Times Square. Finally, the ball dropped and the bells rang and the noisemakers blew and in the New Year of 1957 I had not only our city's first baby boy of the year, but the largest! That has to be the most memorable New Year's Eve, and New Year's Day, of my life.
—Avis Taylor
My best (and most puzzling) New Year's was the one when my parents brought me a new baby brother. I'd spent New Year's Eve and Day with a babysitter, and I never did figure out where my parents had been.
—Cathy Taylor, at age three
Advice for avoiding New Year's eve altogether: Go to a really gripping movie that doesn't get out until after midnight. I've done this when I had a boyfriend who wasn't into the hoopla (and neither was I, really), just to have a quiet time; I've done it with friends who wanted a calm evening, or, like me, had made no interesting plans; I've done it by myself. Try it. It works! You just get absorbed in the humor or action, and then, when it's over, you walk out into the quiet night air and think, Hmmm, it's 2001 now. Or maybe you don't even remember until you open your morning paper the next day.
—C. M. Kelly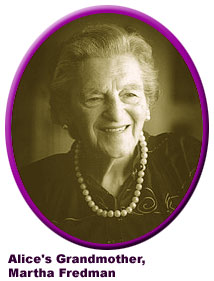 I spent New Year's Eve with my grandma when I was a kid. I'd go to her apartment around dinnertime and spend the night. After the meal we'd do an art project or cook or read together. She'd show me her little treasures, telling me stories about each one. She'd let me brush her long, thick, silvery hair with her special silver brush. She usually wore her hair up in a bun on the back of her head, so this was a rare occasion.
Gram would bring out treats throughout the evening. As midnight approached, glued to the TV screen, we'd count down with the host to the New Year. Every New Year's Eve I am thankful for memories of my grandma and our times together.
—Alice Ansfield
My grandmother, from Southern Tyrol, in what is now Northern Italy, always made "bagna calda" for New Year's eve dinner. Into a deep pot, she'd put olive oil, lots of butter, lots of garlic, and lots of anchovies. Heated, the mixture melted together into a kind of fondue. We would all gather around the pot on the table, holding large chunks of bread as plates, and dip pieces of winter vegetables: winter squash, cauliflower, carrot, turnip—that sort of thing—into the pot.
The bread would soak up all the good flavors, so we'd eat that piece and reach for the next. This went on until either the pot was empty or we were too full to eat more, in which case the remaining dip became pasta sauce for the next day.
The concoction was simple, but so special and rich that we ate it only this one time of year. My grandmother's family, my family, lives in Wyoming now. Although Grandma is no longer living, her tradition is, bringing us together around an aromatic pot of garlic, anchovies, and olive oil to bring in the New Year.
—Amy
In my family, New Year's is really all about food. Whether I am with my husband and children and friends here in California or with family in Japan, lots of foods are special because we eat them only at New Year's: kuromame (black soybeans), shirasu (daikon salad), and seaweed roll with fish inside (we use herring).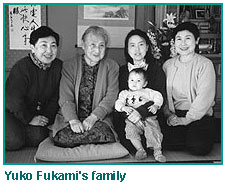 In my oba-chan's (grandmother's) house, the food preparation would go on for days. All the women of the family would work under the directions of my grandmother. The foods would then be set in the outer, unheated walkway around her house to stay cold. Food was also set before pictures of my deceased grandfather and uncle: it is a tradition to keep small shrines to lost loved ones in the sitting area of the house, and to remember these people by placing plates of their favorite foods (for my uncle, oba-chan's deviled eggs) by their photos during important holidays. As for the rest of the food, well, we ate it. And ate it. The pleasure of eating the New Year's specialties is a natural part of celebrating the new beginning.
In Japan, just as food preparation goes on in advance of the next year's beginning, other traditions signify personal preparation: cleaning the house, paying debts, getting a haircut—all kinds of things. We always take a bath on New Year's Eve to "wash off" the old year and start the New Year clean.
New Year's is celebrated for at least three days in Japan. We may visit nearby Shinto shrines with prayers and offerings, or to collect our fortunes, toss coins into the saisen bako (offering box), and allow the aromatic smoke of incense burning in huge pots outside of the altar space to waft over our heads and parts of our bodies that need healing and strength for the coming year. On New Year's Day children receive small, decorated envelopes filled with gifts of money from their elders; like Christmas in the States, this is the primary holiday for indulging children with gifts. But whatever else we do, in my family at least, we eat. For several days we would all gather at my oba-chan's house outside Tokyo, sleep Japanese-style on futons on the floor, men in one room, women in another. And we'd visit and we'd eat!
One year I will never forget, and remembering it is especially important to me now that my grandmother has passed on. My grandmother loved to put puzzles together, and on the New Year's before she died she brought out a puzzle of a thousand pieces. For three days the two of us worked on that puzzle together, from early morning to late at night, until it was complete. That scene of quietly spending time with my oba-chan will always stay with me. It, along with her delicious New Year's specialties, many of which I now make each year, will always keep her memory close by.
—Yuko Fukami
Kick-It. You know, that game of dexterity and hilarious fun, hitting a little ball with poles fitted through holes in a wooden, d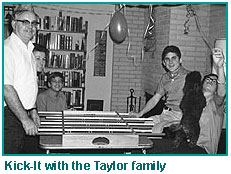 rawerlike frame into (or away from, if you are the defense) little nets at either end. This is what saved New Year's Eve from ever becoming a night when I would feel without love, even if I was without a date.
Every holiday season, my father would pull the Kick-It game out of the garage, dust it off, and place it on its card table stand in our family room. We started practicing before Christmas week. By New Year's Eve, we were ready.
After a family dinner of cold cracked crab, our family group (Dad, Mom, my brother, my sister, and I) opened our door to all the friends who wanted to drop by and challenge each other on the Kick-It "field."
We'd line up to take our turns, or to take on the winners (four at a time, two on either side). The game would get so wild, from either the intensity of serious play or the hilarity of watching those who couldn't keep their eye on the ball and control their "kick-it guys" at the same time, that sometimes the board would get pushed around the table and kicked right off its perch.
Amid our shouts and hoots of laughter, someone would keep a cool head and pull us away in time to see out the last minutes of the old year. As the TV host in Times Square started the countdown, we'd head outside and add our horns and banging pans to all the neighborhood commotion. Then hugs, kisses, clinked glasses of champagne (sparkling apple cider for the kids—though we always managed to get a sip of the good stuff), and "Happy New Year!" to all.
This tradition has continued, probably for thirty years now. Through years of teenaged energy (our "dates" were dragged into what we thought was the hottest spot in town that night); through years without dates (who needed them? the rest of my friends were there); through years with one or another of us off early to college or some other adventure; and into the present, when the younger generation is introduced to Kick-It as soon as they, my nieces and nephews, grow tall enough to reach the board.
Thanks, Mom and Dad, for teaching us from the beginning that New Year's can be more than our culture's two visions of it: romance or loneliness. You showed us that New Year's is a time that can bring us all together, as our silliest, our happiest, and our most loving selves. And thank you, Dad, for bringing that big, bulky, wildly fun game into the house some New Year's in the 1960s, just when your preadolescent children needed it—and the family togetherness that you created—the most.
—Love, Catherine Taylor