Winter 2001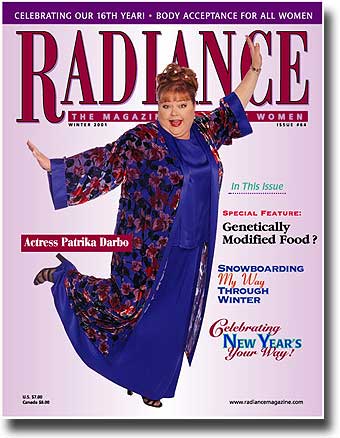 Highlights from this Winter edition:
A special feature on genetically modified foods;

an interview with daytime drama queen Patrika Darbo;

the dynamic Big Dance troupe of Canada;

Big News with Bill Fabrey;

Poetry;

Stories from New Year's,

and more.
Click here to go to the contents page

Changes Going on at Radiance:
After 16 years of publishing Radiance, I'm considering shifting our direction from a print publication to an online magazine and support network. We would provide the same substantial product online that women have come to trust and count on from us.
Meanwhile, I am still looking for a company to join with me to keep the magazine in print. For now, the printing of the magazine has been put on hold while we start to expand our web site with a steady stream of new features, interviews, resources, and a Marketplace (which is already up and running at the site). People would be able to subscribe to Radiance Online. I want to keep the unique, vital, and size-positive Radiance message going strong. I'm in the process of exploring many different avenues, and I invite you to respond with whatever thoughts you have, including ideas, proposals, entrepreneurial introductions, and online solutions.
Thanks for your support. - Alice Ansfield