Click to visit their website.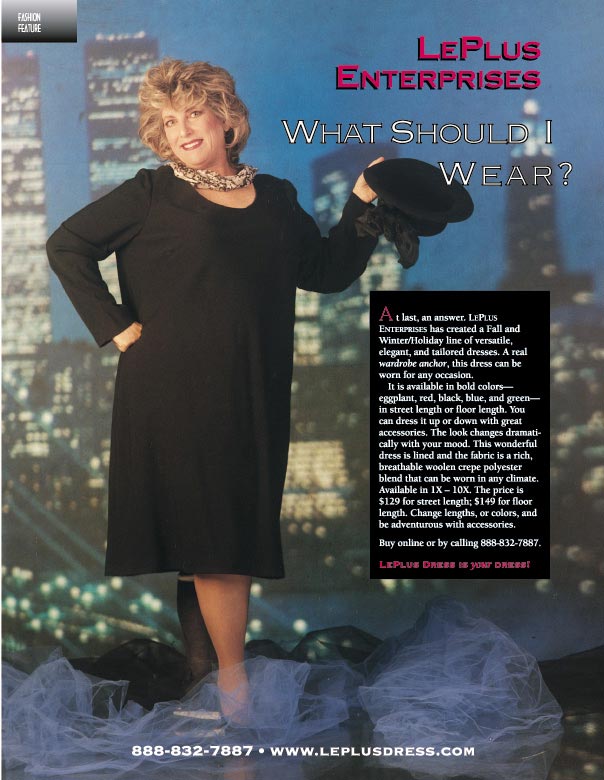 LE PLUS Enterprises was founded by Miriam Black, a plus-size business executive, who introduced a versatile, affordable line of tailored women's dresses. The elegance and simplicity of their signature, piece, LePlus Dress, make it a true wardrobe anchor. The bold fall and winter colors—red, blue, eggplant, green and black—come in street length and floor length in sizes 1X – 10X. The rich, all-weather fabric blend is breathable, is washable, and can be worn in all climates. It has the look of an expensive wool crepe material without the heat. This dress has been created for you—to fit loosely and yet hold its shape beautifully.
Additional designs and fabrics are planned for spring. Says Black, "It's fun to wear this dress! Sometimes I use funky accessories and other times I go conservative. I wore the long red dress to a wedding this past month and the street length eggplant dress to a business meeting the following week. There could be five LePlus dresses in one room and each one would have a totally different look!"
We've formed the LePlus Club on-line to pay attention to your ideas, experiences, and wardrobe needs. You can order this dress in all its varieties on the web at www.leplusdress.com, or call us at 888-832-7887 or 303-632-0200 to talk to a customer care representative. We are really listening to you. Ms. Black personally responds to inquiries.