Click to visit their website.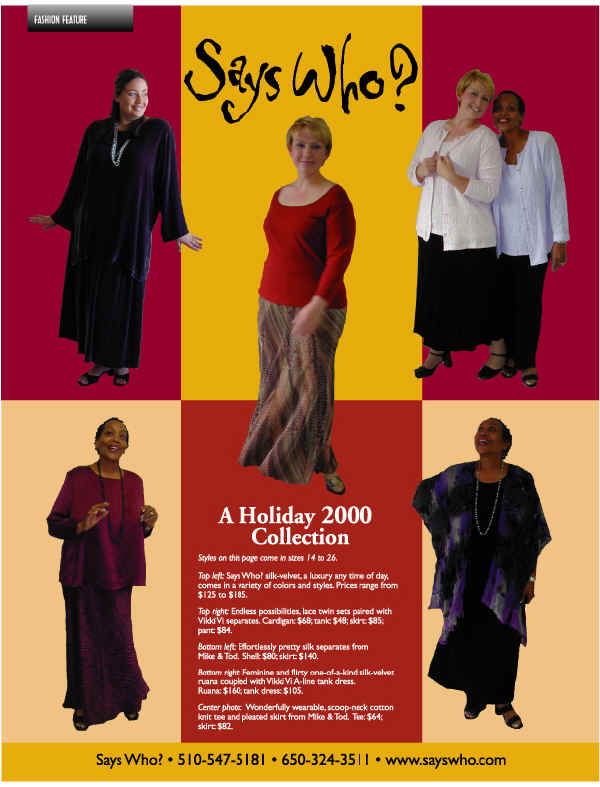 SAYS WHO? is a retail store specializing in relaxed, sensual clothes designed to feel like second nature. When you come to Says Who? you will find natural fiber clothing for women sizes 14 to 32. We cater to your sense of fun. We manufacture a Says Who? collection of clothing as well as carry such lines as Stephanie Schuster, Flax, Liz & Jane, Vikki Vi, and Meng Designs. We are dedicated to the proposition that quality clothes with personality, fashion, and funk should be available to all large women. Our motto is, Let comfort rule! Partners Miklane Jenner and Susan Benson want their clothes to make your life easier. Our goal is to offer you an exciting array of not-so-basic basics with seasonless longevity.
Says Who? has two locations: 3903 Piedmont Avenue, Oakland, CA 94611, 510-547-5181, and 539 Bryant Street, Palo Alto, CA 94301, 650-324-3511. We also have a discount and consignment store for women size 14 and larger called Seams to Fit at 6527 Telegraph Avenue, Oakland, CA 94609, 510-428-9463. Our web site and e-mail address are www.sayswho.com and sayswho@sayswho.com.
We hope to see you soon!